Conservation: Wadi Drone
---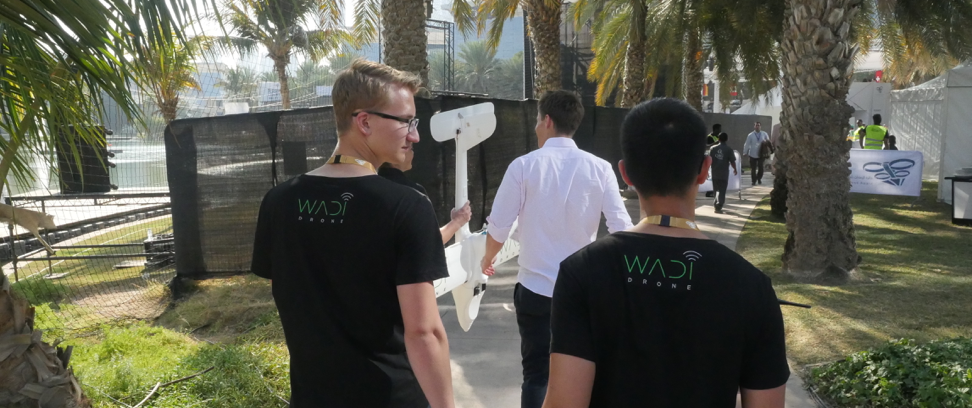 ---
About
Wadi Drone is a fixed wing data MULE (Mobile Ubiquitous LAN Extension) that automates the collection of camera trap photographs, a critical conservation data. Designed in collaboration with Wadi Wurayah National Park the drone can fly over mountains to camera trap locations and wirelessly download photographs taken by the ground-based camera traps. This technology requires minimal investment and employs off the shelf components, so it can be deployed affordably to document animal population sizes and wildlife diversity. Furthermore, with slight modification, the drone can be used to automate the retrieval of any sensor data.
Wadi Drone Technical Details
The Wadi Drone system consists of a modified camera trap system and a drone carrying a small electronics payload. The modified camera can transmit pictures from the camera to the electronics payload and the payload consists of a communication system that can send signals and retrieve the transmitted photographs from the camera.
The drone is composed of a Penguin V2 frame with customized power electronics to maximize flight time and flight distance. It is equipped with autonomous navigation ability through the APM 2.6 flight controller and the ArduPilot Open Source Autopilot.  The plane carries a small communication payload that communicates with the modified camera trap and downloads the camera trap photo autonomously.
The camera contains photography transmission system that is made up of two separate systems, a low-power XBee and Arduino based system and a high-power Wi-Fi and Raspberry Pi system. During the time when a photo is not in transmission, the camera trap enters the power saving mode by shutting down the Wi-Fi and Raspberry Pi system, however, when the drone is in the vicinity, the camera turns the high-power system back on to begin photo transmission process.
Drones for Good
In February 2015, our team presented the Wadi Drone system live in front of more than 600 people in the Drones for Good competition. Our team came first in the National category and won a prize of AED 1,000,000. The funding allows for the continuation of Wadi Drone development. Currently, with the funding from the Drone for Good competition, we have obtained a new plane, RMRC Anaconda, and successfully conducted autonomous landings and take-offs, and we have also developed the tutorial documents for all the necessary steps needed to build our system from scratch, the whole project will be open sourced very soon, check out our website for more information